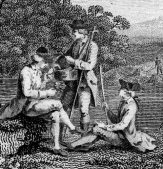 Registration open: 'The Language of Nature' SHNH International Summer Meeting – Thinktank, Millennium Point, Birmingham Tuesday 13 June 2023 (with visits planned for 14 June)
T
he Society for the History of Natural History is a diverse community of people united by an active interest in the study of natural history through time, believing that a greater awareness of how nature has been considered, documented, valued and exploited by societies and individuals worldwide leads to a deeper understanding and celebration of nature.
The Society is known for its friendliness and its meetings combine intellectual excellence with opportunities for an informal exchange of ideas. It is a focal point for the history of all aspects of natural history. This includes art, literature, biography and bibliography as well as investigative historical studies.
This one-day international meeting will explore the language of nature in its broadest sense. Over centuries, different formats and mediums, stylistic approaches and classification systems have been used to describe and represent the natural world. These 'languages' influence how we conceive of nature, how we categorise it, how we wonder at it and who we credit with its 'discovery'. This conference aims to bring new perspectives to the history of natural history writing and other expressions of nature, exploring not only the creativity and originality involved but also the limitations and biases that shape our understanding of the natural world and how it has been perceived throughout history.
Download the 2023 SHNH Programme & Abstracts for the 'Language of Nature'

Please register to attend through this Eventbrite link

Registration will close 6pm on 29th May 2023
For this meeting we have welcomed papers from across the field which speak to any aspects of the history of natural history. Speakers have been convened into sessions of related 20 minute papers with a shared session for questions at the end of each session.  Please see the programme below.
Programme 13 June

9:15 – 9:30 Registration & Refreshments

9:30 – 11:00 Session One
Dieu me garde de calomnie: Language, Mushrooms, and Monkeys in EJH Corner's Singapore
Nathan Smith, National Museum of Wales
Who knows? Knowledge production and scientific collecting in the early 20th century
Rachel Jennings, Powell-Cotton Museum
John Woodward and the appropriation of vernacular mining terminology
Joshua Hillman, University of Leeds
Q&A
11:00 – 11:30 Break
11:30 – 1:00 Session Two
A Caribbean Language of Plants: Botanical sites of memory and resistance in Kew's Colonial Archive
Heather Craddock, University of Roehampton
From the Indian Ocean to the Pacific via Upper Gower Street: a global history of the word "atoll"
Alistair Sponsel, Tufts University and Cold Spring Harbor Laboratory
Specimens from the Border. The political and geographical languages of collection management tools.
Catarina Madruga, Museum für Naturkunde Berlin
Q&A
1:00 – 2:15pm Lunch (and AGM for members)

2:15 – 3:45 Session Three
Mark Catesby (1683–1749): exploring his lexicon of vernacular names of plants and animals
E. Charles Nelson
Unwriting Geohistory: The Language of American Creationism, 1900–1935
Richard Fallon, University of Birmingham
Nature's "Tangled Bank": Ecology and the Human Sciences in the Early Twentieth Century
Emilie J. Raymer, Harvard College
Q&A
3:45 – 4:15 Break
4:15 – 5:45 Session Four
Digital tools and eighteenth-century botanical specimens
Victoria Pickering, Natural History Museum
Art and Sound as 'languages' of nature
Cam Sharp Jones and Cheryl Tipp, The British Library
Naming wildlife in early modern Britain and Ireland
Lee Raye, Open University
Q&A
5:45  Closing Remarks
5:45 – 6:45 Reception (including a few words from medal winners if in attendance).

All attendees
6:30 – 8:30 Dinner
Only for those who pre-book
Programme 14 June – Optional visits

Visit 1
Winterbourne House and Garden (University Herbarium) with Henrietta Lockhart.
11am arrival time for a 60-90 minute tour. Capacity 20.
On this behind-the-scenes tour delegates will visit the Herbarium housed at Winterbourne House and Garden and hear about its history and how it came to be at Winterbourne. There will then be a chance to view sample boxes of specimens and archival material linked to the Herbarium. Following the conclusion of the tour delegates will have access to explore the Edwardian historic gardens and seek refreshments in the tearoom.
Visit 2
Museum Collection Centre with Lukas Large.
10am arrival time for a 90-120 min tour of the collections. Capacity 20.
This behind-the-scenes tour will see delegates visit the Museum Collection Centre, the main store for Birmingham Museum Trust. Holding over 80% the Trust's collection there will be plenty to see, including the natural science collections. With around 250,000 specimens, the collection is the largest resource of its type in the West Midlands, covering modern biodiversity and the history of life and our planet. It contains collections of entomology, zoology, ornithology, botany and earth science, and tells the story of the relationship between the people of Birmingham and the natural world.
For more information on the Society please see www.shnh.org.uk. 
Archives of Natural History is the journal of the Society for the History of Natural History, publishing papers on the history and bibliography of all branches of natural history. For more information see https://www.euppublishing.com/loi/anh.
Registered Charity no. 2103555 in England and Wales