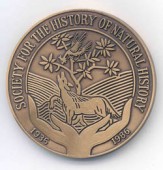 Sir David Attenborough OM CH FRS is awarded the SHNH – Society for the History of Natural History Founders' Medal
Sir David Attenborough OM CH FRS has been awarded the SHNH – Society for the History of Natural History Founders' Medal. The SHNH Founders' Medal is awarded to persons who have made a substantial contribution to the study of the history or bibliography of natural history.
Sir David was presented with the award by Professor Gren Lucas OBE at the Royal Society of Medicine where Sir David was presenting the Darwin Lecture on Science and Medicine on "Alfred Russsel Wallace and the Birds of Paradise".
A.R. Wallace spent eight years travelling in search of birds of paradise and became the first European naturalist to see them in display. In the course of his explorations, he wrote a paper that, together with another by Charles Darwin, announced the theory of evolution by natural selection. But it was the birds of paradise that preoccupied him throughout his journeys in Indonesia.
SHNH member Professor Lucas, in presenting the award on behalf of the Society said the Society had voted unanimously to award the Founder's Medal to Sir David. Prof Lucas quoted the Founders' Medal criteria and commented that no-one could fit that description better than Sir David – and that further evidence had been given by the superb lecture on Wallace. Prof Lucas said he was delighted to be able to finally present the medal as Sir David's busy filming schedule over the last six months had not made it previously possible.
Sir David thanked Prof Lucas and SHNH-the Society of Natural History, of which he is Patron, for the award and posed with the medal for photographs to prolonged applause.
For more information or photos please contact Elaine Shaughnessy, Newsletter Editor, SHNH-Society for the History of Natural History www.shnh.org.uk. at webmaster@shnh.org.uk
Notes for Editors:
SHNH – The Society for the History of Natural History (www.shnh.org.uk) is a friendly international society for everyone who is interested in natural history in the broadest sense. This includes botany, zoology and geology as well as natural history collections, exploration, art and bibliography. Everyone with an interest in these subjects – professional or amateur – is welcome to join.
The Society has a thriving international membership and international meetings are held at regular intervals. The Society's main publication is Archives of natural history and all volumes published since 1936 are now available online. Containing refereed, illustrated papers and book reviews, Archives is published for the Society by Edinburgh University Press. A more informal Newsletter is published three or four times a year. From time to time, the Society also publishes other works of interest. The most recent publications are History & mystery and Darwin in the Archives.