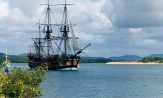 Registration open: Bon Voyage? 250 years exploring the natural world
SHNH summer meeting and AGM in association with the British Ornithologists' Club
Thursday 14th and Friday 15th June 2018
(Lunch and tour of Knowsley Hall, Wednesday 13th June)
2018 marks the 250th anniversary of Captain James Cook's first voyage to the Pacific. A pivotal moment in the history of exploration, Cook's voyages influenced many areas of science and endeavour – from astronomy and geology to natural history and anthropology.
This international meeting, held in association with the British Ornithologists' Club, will focus on the lives, encounters, contributions and legacies of many of those involved in the history of natural history exploration around the world, from land to sea – the risks they took, the discoveries made, their contributions to science, and the ingenuity and endeavour involved in the process. It will also examine some of the complexities and controversies surrounding many centuries of natural history exploration and discovery.
The Society's AGM will take place at lunchtime of Thursday 14th June. There will also be lunch and a tour of Knowsley Hall on the afternoon of Wednesday 13th June for those interested (leaving at 12 noon from Liverpool City Centre).
Papers will include the following or related topics from any era covering any area of natural history – botany, zoology and geology:
Provisional Programme
Thursday 14th June
9.00-9.20         Registration
9.20-9.30         Welcome to World Museum
Morning session: Cook, Banks and beyond…
9.30-10.10       Keynote Speaker – Jordan Goodman, Department of Science and Technology Studies, University College London, In the Wake of Cook? Joseph Banks and his 'Favorite Projects'
10.10-10.35     Edwin Rose, University of Cambridge, Joseph Banks, Daniel Solander and the practice of natural history on board HMS Endeavour (1768–71)
10.35-10.55     Maureen Lazarus and Heather Pardoe, National Museum Wales, Banks' Florilegium: the first natural history artists recording the unknown
10.55-11.15     Break for tea / coffee
11.15-11.40     Jack Ashby, Grant Museum of Zoology, University College London
"Contrary to the general laws of nature": Europe's earliest encounters with Australian animals
11.40-12.05     Stanislav Strekopytov, Natural History Museum, Instructions for preservation of natural history specimens at the time of Cook's voyages
12.05-12.30     Zoë Varley, University of Sheffield and Natural History Museum, Robert FitzRoy: Captain, Collector and Collaborator
12.30-13.15     Lunch and viewing of posters
13.00-13.45     SHNH AGM
Afternoon session: Avian adventures
13.45-14.10     Edward Dickinson, Alcide Dessalines D'Orbigny (1802-1857): Voyageur-Explorateur for the Paris Museum – travels in Southern South America 1826 to 1834
14.10-14.35     Robert Prys-Jones, Scientific Associate, Natural History Museum, Wallace's Sarawak bird collection and the development of his ornithological knowledge
14.35-15.00     Jude Philp, Macleay Museum, Sydney University Museums, A. S. Anthony, ''a man of colour''
15.00-15.20     Break for tea/coffee
15.20-15.45     Henry McGhie, The Manchester Museum, Henry Dresser and 'self help'
15.45-16.10     Lee Raye, Swansea University, Urban ravens, red kites and voyages to Britain
16.10-16.30     Further questions and announcements
19.00-21.30     Conference meal at the Ship and Mitre (Pre-booked diners only):
Fixed price of approx. £15 per person with service (10%)
Friday 15th June
9.00-9.15         Registration
9.15-9.20         Welcome and announcements
Morning session: Collecting and recording
9.20-9.45         Mark Carine, Fred Rumsey, Malcolm Penn, Natural History Museum, From Peckham to Pegu: the assembly and classification of the Sloane herbarium
9.45-10.10       Jeanne Robinson and Geoff Hancock, Hunterian Museum, University of Glasgow, William Hunter's museum as a paradigm for 18th century collection practices
10.10-10.35     Jacek Wajer1, D.J. Mabberley and D.T. Moore, Natural History Museum1, Piecing together a 200 year-old botanical jigsaw: the search for the specimens of the Australian plants collected by Robert Brown during the Investigator voyage (1801-1805)
10.35-11.00     Cam Sharp Jones, Royal Botanic Gardens, Kew, Joseph Dalton Hooker's techniques of collecting and recording the natural world
11.00-11.20     Break for tea/coffee
11.20- 11.45    Luciana Martins, Birkbeck, University of London, William Milliken and Mark Nesbitt, Royal Botanic Gardens, Kew, An ethnobotanist avant la lettre: Richard Spruce collecting in South America
11.45-12.10     Carlo Bovolo, Fondazione Filippo Burzio, Turin, An Italian Zoologist Around the World: Filippo De Filippi and the Scientific and Diplomatic Voyage of the "Magenta"
12.10-12.35     Andreia Salvador, Natural History Museum, The marine mollusca collection at the Natural History Museum: an overview of the legacy of oceanographical expeditions [tbc]
12.35-13.00     Rosi Crane, Otago Museum, Dunedin, Steamship Natural History
13.00-13.25     Geraldine Reid, National Museums Liverpool, Exploring the Oceans – Seaweed Collecting Explored
13.25-14.15     Lunch and viewing of posters
Afternoon session:
14.15-14.40     Leslie Overstreet, Smithsonian Libraries, The (most important) books on the Beagle
14.40-15.05     Peter Davidson, National Museums Scotland, What colour is that? Werner's Nomenclature of Colours and Exploration in the First half of the Nineteenth Century
15.05-15.30     Mark Graham, Natural History Museum, The early Fossil Preparators at the British Museum of Natural History and their sons: familial contributions to the field of Earth Sciences
15.30-15.55     Deborah Wace, Churchill Fellow 2018, Art and History in the French Garden at Recherche Bay; Labillardiere's collections explored in contemporary art
15.55-16.00     Further questions, thanks and formal close of meeting
Collection tours to be arranged.
Liverpool Accommodation
There are lots of accommodation options in the City Centre. The closest hotels to the World Museum are:
A bit further away are:
Easyhotel, 47 Castle Street, L2 9UA
The Richmond, 24 Hatton Garden, Liverpool, L3 2AA
Plus plenty of options in and around the Albert Dock
There are lots of self-catering and apartment type places too, mostly around the Hanover Street area.
See Booking.com or Laterooms.com for more options.
Liverpool gets booked up really fast, so we recommend booking as early as possible to avoid disappointment (and to get the best rates!)