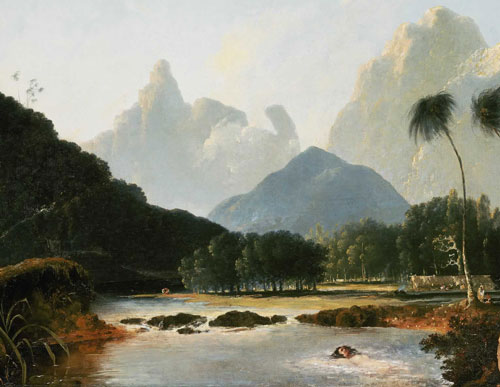 Oceania exhibition at the Royal Academy London, marking 250 years since Cook's first voyage to the Pacific. 29 September — 10 December 2018
Marking 250 years since Cook's first voyage to the Pacific, the Royal Academy celebrates the dazzling and diverse art of the region of Oceania, from the historic to the contemporary.
The year is 1768, and Britain is in the throes of the Age of Enlightenment. As a group of artists agrees to found the Royal Academy, Captain James Cook sets sail on a voyage of discovery to track the transit of Venus and search for terra australis incognita – the unknown southern continent, as Europeans called it. What Cook and his crew encounter on arrival is a vast number of island civilisations covering almost a third of the world's surface: from Tahiti in Polynesia, to the scattered archipelagos and islands of Melanesia and Micronesia.
The indigenous populations they met came with their own histories of inter-island trade, ocean navigation, and social and artistic traditions. This spectacular exhibition reveals these narratives – celebrating the original, raw and powerful art that in time would resonate across the European artistic sphere.
Oceania brings together around 200 exceptional works from public collections worldwide, and spans over 500 years. From shell, greenstone and ceramic ornaments, to huge canoes and stunning god images, we explore important themes of voyaging, place making and encounter. The exhibition draws from rich historic ethnographic collections dating from the 18th century to the present, and includes seminal works produced by contemporary artists exploring history, identity and climate change.
Oceania continues the RA's tradition of hosting outstanding exhibitions exploring world cultures, which have included Africa: The Art of a Continent (1995), Aztecs (2002), Turks: A Journey of a Thousand Years (2005), China: The Three Emperors, 1662-1795 (2005) Byzantium 330-1453 (2008) and Bronze (2012).
Oceania has been organised by the Royal Academy of Arts, London and Musée du Quai Branly – Jacques Chirac, Paris, with the participation of the Museum of Archaeology and Anthropology, Cambridge.
Please note:
This exhibition includes many objects that Pacific Islanders consider living treasures. Some may pay their respects and make offerings through the duration of the exhibition. Please be aware that this exhibition contains human remains.
Entry to the exhibition is free for New Zealand and Pacific Island passport holders. Show passport at exhibition entrance. No need to book in advance. There may be a short wait at busy times.
Tickets to the exhibition come with a free universal audio guide. Free for ticket buyers, RA Friends and their guests. Reciprocal, corporate, and school groups can hire a guide at a discounted cost of £2.50.
29 September — 10 December 2018
Main Galleries, Burlington House, Royal Academy of Arts
£20 (without donation £18). Concessions available. Under-16s free with a fee-paying adult. Free for Friends of the RA, no booking required. Free for all New Zealand and Pacific Island passport holders (show passport at exhibition entrance).
To mark the 250th anniversary of Captain James Cook's first voyage to Pacific, Professor Geoff Quilley examines the impact of Cook's voyages on British art and how the artists invited on the voyages shaped the West's visualisation of the Pacific. Friday 19th October.
1768 saw both the founding of the Royal Academy of Arts in London and also the departure of Captain Cook on the first of his three voyages into the Pacific Ocean. Cook's voyages are not generally seen as part of art history, but they were hugely significant. They were the first voyages of exploration to take artists as part of a dedicated team of observers. They also produced the first extensive visual record of the Pacific Ocean, its peoples and natural environment, which were largely unknown to the west.
In this talk, Geoff Quilley will look at the different responses of the artists on all three voyages, including William Hodges RA, John Webber and Sydney Parkinson, along with their encounter with this startlingly new environment, and how they inaugurated an enduring image of an idyllic Pacific world.
Geoff Quilley is Professor of Art History at the University of Sussex, and specialises in British art in relation to empire, colonialism and maritime travel, on which he has published widely. He was previously Curator of Fine Art at the National Maritime Museum, London, where he curated the exhibitions William Hodges 1744-1797: the Art of Exploration (2004) and Art for the Nation: the Oil Paintings Collections of the National Maritime Museum (2006). His monograph Empire to Nation: Art, History and the Visualization of Maritime Britain, 1768-1829, was published by Yale University Press in 2011, and he is currently completing a book on British art and the East India Company.
Friday 19 October 2018
11am — 12pm
The Benjamin West Lecture Theatre, Burlington Gardens, Royal Academy of Arts