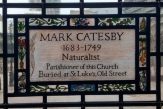 Mark Catesby: A New Memorial Window in London, UK
By E. Charles Nelson, VMM FLS, Senior Research Director, The Catesby Centre, The University of South Carolina; Associate Editor, Archives of Natural History of Society for the History of Natural History
Mark Catesby (1683-1749), famous for his magnificent publication The natural history of Carolina, Florida and the Bahama Islands (1729-1747) is 337 years old today (24 March 2021). In his day, this was New Year's Eve.
A new memorial window marks Mark Catesby's links with the London churches of  St Luke on Old Street and St Giles' Cripplegate. The window was designed and executed by Caroline Swash FMGP with Laura Perry and generously supported by donations from descendants of Mark's sister, Elizabeth Catesby (Mrs Elizabeth Cocke, 1680–1755), and the Mark Catesby Centre at the University of South Carolina, Columbia, and was installed in November 2020 in St Giles'.
Read the full story here.
If you would like to write a blog for SHNH – Society for the History of Natural History, see our blog on Blogging for SHNH.