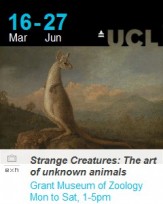 Check out our two new exhibition reviews
We are starting a new series of exhibition reviews by guest contributors and are delighted to alert you to two blog posts.
The first is on the exhibition 'Cotton to Gold: Extraordinary Collections of the Industrial North West' which was the fourth exhibition in the hugely successful Winter Exhibition Programme at Two Temple Place, London (January – April 2015) by Pat Morris. Read blog.
The second is on 'Strange Creatures' at the UCL Grant Museum of Zoology (16 March-27 June 2015), Monday-Saturday, 1-5pm, curated by Jack Ashby, by Isabelle Charmantier. Read blog.