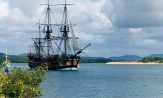 CfP Bon Voyage? 250 Years Exploring the Natural World
SHNH summer meeting and AGM in association with the British Ornithologists' Club

World Museum Liverpool
Thursday 14th and Friday 15th June 2018
(Lunch and tour of Knowsley Hall, Wednesday 13th June)
2018 marks the 250th anniversary of Captain James Cook's first voyage to the Pacific. A pivotal moment in the history of exploration. Cook's voyages influenced many areas of science and endeavour – from astronomy and geology to natural history and anthropology.
This international meeting, held in association with the British Ornithologists' Club, will focus on the lives, encounters, contributions and legacies of many of those involved in the history of natural history exploration around the world, from land to sea – the risks they took, the discoveries made, their contributions to science, and the ingenuity and endeavour involved in the process. It will also examine some of the complexities and controversies surrounding many centuries of natural history exploration and discovery.
We are now inviting papers on the following or related topics from any era covering any area of natural history – botany, zoology and geology:
Early expeditions and pioneers (whether famous, infamous or less well known)
Expeditions on land
Exploring the oceans
First encounters / new discoveries
Perilous journeys and risky encounters / retracing footsteps
Techniques for collecting, recording, preserving and transporting material back home
The role of local knowledge and development of relationships in the field
Long term legacies
Short abstracts (no more than 200 words) for 20 minute papers should be sent to Jo Hatton (jhatton@horniman.ac.uk) by 28th February 2018.
Formal registration for the conference will open soon.
Image: Joseph Smit portrait of The Spotted Green Pigeon (AKA The Liverpool Pigeon) Caloenas maculata, courtesy of  NML (National Museums Liverpool).