A Geologist's view of "John Ruskin: The Power of Seeing"
A free exhibition at Two Temple Place, London, 26 Jan – 22 April, celebrating the cultural and social heritage of the Victorian polymath John Ruskin (1819–1900).
To mark the bicentenary of his birth, a new exhibition produced by Two Temple Place, Museums Sheffield and the Guild of St George, celebrates the legacy and enduring relevance of Ruskin's ideas and vision. John Ruskin: The Power of Seeing brings together over 190 paintings, drawings, daguerreotypes, metal work, and plaster casts to illustrate how Ruskin's attitude to aesthetic beauty shaped his radical views on culture and society.
Two Temple Place, London WC2R 3BD
#JohnRuskin #PowerofSeeing #Ruskin200
Born 200 years ago, John Ruskin was one of the intellectual giants of 19th century Britain whose lectures, writings, artwork, social work and benefactions continue to have an influence today. What is not widely appreciated today is the considerable influence of geology on Ruskin's artwork and criticism and his collecting.
The neo-gothic architecture of Two Temple Place is an ideal setting for this wonderful exhibition, which celebrates Ruskin's continuing influence and legacy. The panelled rooms are filled with his artwork, from natural history to architecture, work by contemporaries and protégées inspired by him, his social commentary, projects and his zeal as a collector with some of his minerals from the permanent collections of the Millennium Gallery in Sheffield.
From childhood, Ruskin's geological interests were stimulated by Scottish landscape. As a precocious teenager he compiled a dictionary of minerals and was fascinated by maps but was already commenting that it is 'geology not borders and boundaries that make a map complete'. And, he had geological essays published in Loudon's Magazine of Natural History before going to Christ Church College, Oxford in 1837. Although studying classics, Ruskin came to the attention of William Buckland (1784–1856) and made drawings for his lectures. By 1840 Ruskin had met Turner (1775–1851) whose work he greatly admired and whose greatness he championed. It was contemporary criticism of Turner that prompted Ruskin to start writing his highly influential work Modern Painters: their Superiority in the Art of Landscape Painting to the Ancient Masters (London, 1843).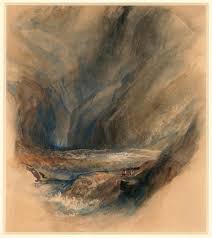 Following in Turner's footsteps, it was the drama of the Swiss Alps with their glaciers and visible geological structure that stimulated Ruskin emotionally, spiritually and intellectually. To understand how and why landscape could impact the imagination, Ruskin realised that, like an anatomist, he had to look beneath the surface to its structure and formation. Influenced by the Swiss scientist and alpinist Horace Benedict de Saussure (1740–1799), Ruskin's journal notes, sketches, diagrams and paintings clearly show his understanding of the large-scale structure and cleavage in the form of alpine peaks. By 1856 Ruskin brought together his thoughts, interpretation and illustration of Alpine landscape in volume four of Modern Painters – Of Mountain Beauty (London, 1856).
Influenced by Buckland, Ruskin was a theological geologist. In lengthy passages of 'purple prose' Ruskin relishes the uplifting and divinely inspired vitality and purity of the alpine landscape compared with the corrupt stagnant decay of lowland landscapes as painted by the likes of Constable (1776–1837). Whilst Ruskin's geology never progresses much beyond that of the early decades of the 19th century, he was one of the first great artists to portray the geological anatomy of landscape.
Douglas Palmer, Cambridge
Featured image: Study of Moss, Fern and Wood-Sorrel, upon a Rocky River Bank, 1875-79. Photograph: Hazel Drummond/© Collection of the Guild of St George / Museums Sheffield.
Additional Reading
More information
John Ruskin: The Power of Seeing will be complemented by a further exhibition continuing the bicentenary celebrations at the Millennium Gallery, Sheffield from 29 May – 15 September 2019.
Ruskin To-Day is a gathering of the many people, places and enterprises devoted to Ruskin and his work. For more on all the activity planned around the world for 2019, go to www.ruskin200.com.